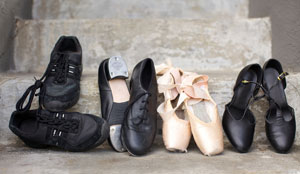 Get your dancing shoes on
If you like the idea of having a bit of a dance and shaping up at the same time, we've got just what you're looking for. It doesn't matter whether you're a complete beginner or a seasoned-pro, our dance instructors will make sure your energy levels are boosted, whilst guaranteeing bags of fun at the same time. We welcome those who think they have two left feet and we cater for all ages.
---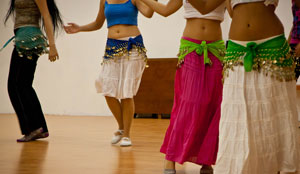 Belly dancing classes
We have a fabulously sensual beginner's class that's divided into eight categories. Learning is made super-easy and is especially good at correcting posture by working all of your muscles in an energetic and exotic way. For women who are planning on having a baby, belly dancing is a beautiful and effective way to control and develop the muscles involved in this life-changing experience.
---
Ballroom dancing classes
We cover the basics of all the popular ballroom dancing styles and focus on a new one every week. You'll soon get to grips with the steps and be gliding around the dance floor in no time. They'll help you develop rhythm, tone-up your muscles and enable you to maintain great body posture.
Here's what we teach:
Samba
Cha-cha-cha
Jive
Rumba
Viennese waltz
Slow waltz
Salsa
Bachata
Merengue
Tango and slow fox
---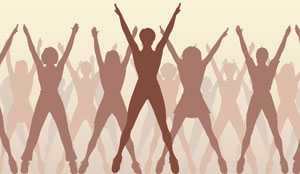 Dance aerobics
Aerobics is a great way of staying in shape, but when you throw in some popular dance steps, it becomes addictive. Shape up your body and get super-fit. Our classes are for everyone, and involve dance routines that include: salsa, bachata, jive, hip-hop and belly dancing. It's nothing too formal, so don't worry about getting the steps perfect, just let yourself go and enjoy rocking your body.
---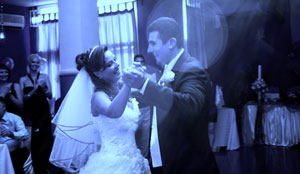 Private dance classes
This is absolutely perfect for a wedding, special event, or for anyone who has always wanted to master a few popular dance steps and 'wow' a crowd. We can teach any of the styles mentioned on this page, and we can do it at our studio in Twickenham or at a location that suits you. So what are you waiting for… get your very own personal dance instructor and move like a pro.